5 minutes with charlotte devaney
5 minutes with charlotte devaney
We're joined here today by one of the leading female artists in the UK for dance and electronic music, Charlotte Devaney! Thanks for taking the time to have a chat with us today, Charlotte! We can only imagine how crazy its been for artists and DJs during lockdown but not for you it seems as you've been more active than ever with hologram sessions.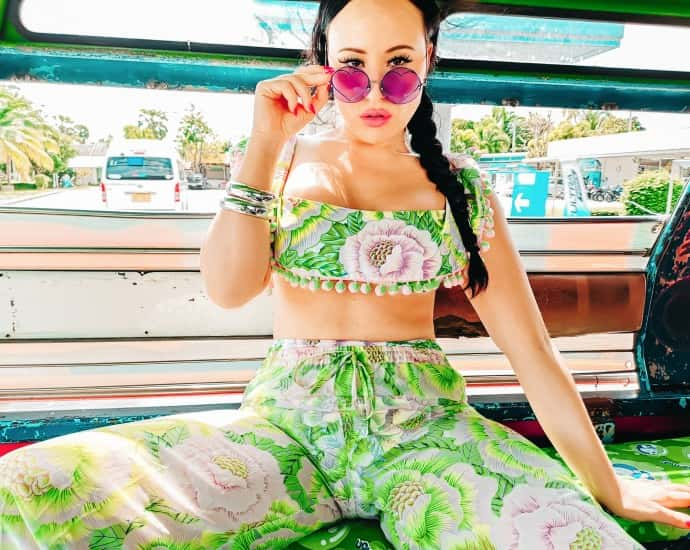 1. What was the inspiration behind the live streams?
Hey guys! I always want everything I do to reflect me, which usually involves bright colours and lots of energy, haha! so I guess the answer to that question is I just naturally inject a bit of me and my crazy ideas into everything I do, including our live stream! I also love to mix genres, especially bass music genres and that's been the main theme of my lockdown life!
2. Where did the idea of hologramming MC's and singers come from?
I hit up Skibadee to do a live stream with me just for fun over lockdown, at the time DJs and MCs were performing on separate videos and being edited together due to restrictions, so myself and my creative partner in crime (we call him the Wizard lol) played around with the idea of how we could bring him to life without him being there! One thing led to another and we came up with the idea of turning him into a non-live hologram with some old footage, after the success of that video which racked up 90k views, we explored the idea of doing it live and the rest is history!
3. You've worked with some of our heroes such as Skibbadee, MC Neat, Kele Le Roc and many more – who else is in line for a hologram session?
Yes, I'm lucky to know some legends who were up for getting involved in the madness that is the Hologram sessions! Each episode has been amazing in its own unique way! We've got some more episodes planned with artists across genres such as Trigga, Fearless, Bushkin Heartless Crew, Fatman Dee, Ragga Twins, Creed, DT, Bellyman, Alistair Dodger, GQ, Scrufizzer and more – watch this space!
4.The videos have been clocking up a chunky amount of views – do you think you will carry on streaming even after clubs and festivals return?
Yes, they have, I think it's just so different that some people come back and watch them over and over again I've found! We are definitely going to keep streaming once things go back to normal and keep growing the Hologram sessions bigger and bigger!
5. Lockdown has been tough for artists and DJ's – what did you get up too throughout?
It has been yes and it continues to be a very testing and stressful time for everyone in the entertainment business and unfortunately, it doesn't look like things are going to change anytime soon! I've tried to make the best of this year by streaming loads, which has included developing the Hologram sessions! I also started doing online music and a chat show called 'The Wavy Occasion', with my best mate Kirstie J, we previously had a radio show on Pyro radio, which got shut down in lockdown so we took it online via zoom! I've also done a few streams on a fire engine stage that I work with, owned by the FBU, all in aid of 'Kids on the Green', which is a charity that was set up in the wake of the Grenfell tower fire and we did 4 of those events over the summer which were pretty wild! I think for my own sanity I've had to keep myself busy, this year has been so tough mentally for us all, so having something positive to focus on has been such a lifeline for me.
6. For real, how many banana breads did you bake?
haha only one, after that was too busy streaming!
7. Is there any new music from you on the horizon?
Yes, there is, I'll have a couple more singles and remixes dropping before the end of the year, plus I'm back in the studio writing over the winter months! I also have a mini film/music video dropping December time with a single to accompany it, that one's pretty wild!
8. What was it like working with Snoop Dogg?
Working with Snoop was cool, and I feel very fortunate to have had the opportunity, he's an absolute legend and a lovely guy!
9. Lastly, you're an inspiration to many female artists out there, what would you say to the new generation trying to get their music heard?
I would say persistence, dedication and a very thick skin is what you need to survive in the music business! I would say the number one thing is to be yourself, be different and don't be afraid of that! Build your social media up, be active that's def the best way to reach fans and get heard!
A HUGE BIG UPS TO CHARLOTTE DEVANEY FOR ANSWERING OUR QUESTIONS. YOU CAN FIND HER PAGES ON THE LINKS BELOW! GIVE HER A FOLLOW AS SHE IS A LOT OF FUN!